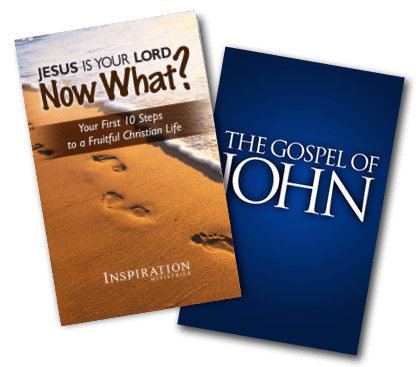 You have taken an amazing step today. In fact, you?ve been reborn into a brand-new life?and a new family! As you begin to grow in your faith, I want to equip you with some foundational resources.
First, I am sending you two FREE e-books. "Jesus Is Your Lord. Now What?" is a practical guide to help you understand the joys and promises of living a Christian life. I?ll also send you "The Gospel of John", an important book of the Bible that will help you learn about Jesus Christ.
You?ll have your choice of PDF, Kindle-compatible version or iBook versions of both books!
In addition, you?ll receive "30 Keys to Your Spiritual Growth", a series of daily inspirational videos, to help you grow in your new Christian life.
Simply provide your best email address to receive your FREE e-books and daily inspirational videos.
I encourage you to commit just five minutes a day to watching the videos. The time you spend building a strong foundation for your faith will yield eternal dividends.
May God bless you on your journey of discovery!